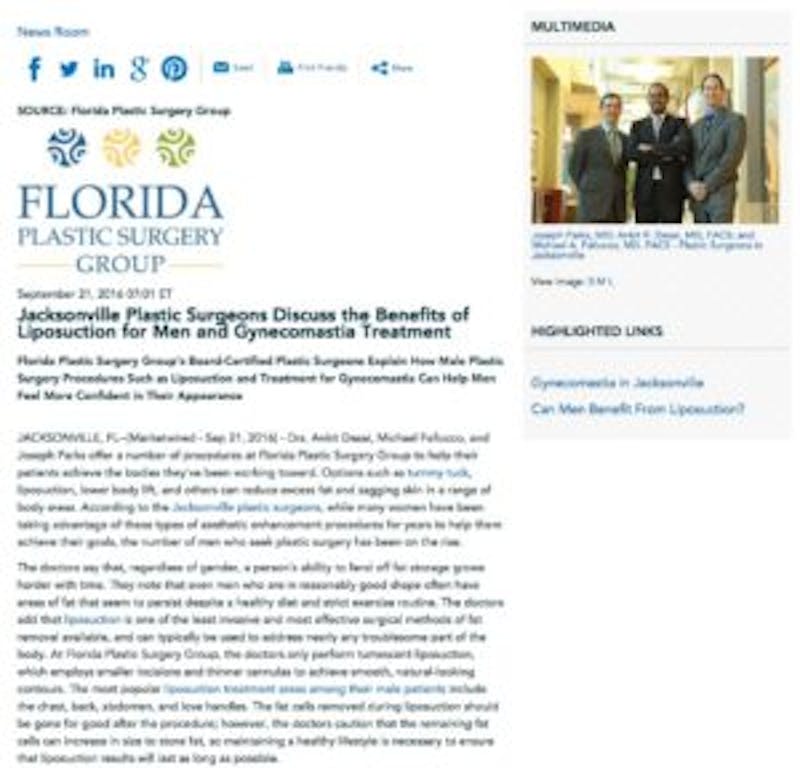 Florida Plastic Surgery Group's board-certified plastic surgeons explain how male plastic surgery procedures such as liposuction and treatment for gynecomastia can help men feel more confident in their appearance.
Jacksonville, FL – Drs. Ankit Desai, Michael Fallucco, and Joseph Parks offer a number of procedures at Florida Plastic Surgery Group to help their patients achieve the bodies they've been working toward. Options such as tummy tuck, liposuction, lower body lift, and others can reduce excess fat and sagging skin in a range of body areas. According to the Jacksonville plastic surgeons, while many women have been taking advantage of these types of aesthetic enhancement procedures for years to help them achieve their goals, the number of men who seek plastic surgery has been on the rise.
The doctors say that, regardless of gender, a person's ability to fend off fat storage grows harder with time. They note that even men who are in reasonably good shape often have areas of fat that seem to persist despite a healthy diet and strict exercise routine. The doctors add that liposuction is one of the least invasive and most effective surgical methods of fat removal available, and can typically be used to address nearly any troublesome part of the body. At Florida Plastic Surgery Group, the doctors only perform tumescent liposuction, which employs smaller incisions and thinner cannulas to achieve smooth, natural-looking contours. The most popular liposuction treatment areas among their male patients include the chest, back, abdomen, and love handles. The fat cells removed during liposuction should be gone for good after the procedure; however, the doctors caution that the remaining fat cells can increase in size to store fat, so maintaining a healthy lifestyle is necessary to ensure that liposuction results will last as long as possible.
The Florida plastic surgeons note that liposuction can often be utilized for another popular male plastic surgery option at their practice: treatment for gynecomastia. The condition is not uncommon among men, and is characterized by excess fat and/or tissue in the chest that causes the appearance of enlarged breasts. For patients affected by gynecomastia, the doctors say that liposuction can be used to remove excess fat, while surgical excision is often more ideal for patients whose condition is primarily caused by excess glandular breast tissue. Depending upon the unique proportion of these tissues in the chest, some patients can benefit from both forms of gynecomastia treatment.
Drs. Desai, Parks, and Fallucco say that men considering plastic surgery should be sure to see a board-certified plastic surgeon who will answer all of their questions and formulate a treatment plan that is customized to their unique needs. They note that procedures such as liposuction and treatment for gynecomastia have proven particularly effective at addressing common aesthetic concerns among men and helping them attain greater confidence in their appearance.
Florida Plastic Surgery Group
Dr. Ankit Desai, Dr. Joseph Parks, and Dr. Michael Fallucco are certified by the American Board of Plastic Surgery. All three plastic surgeons have each been recognized as a Top Doctor in Jacksonville Magazine. At Florida Plastic Surgery Group, the surgeons offer a wide range of plastic and reconstructive surgery procedures, as well as advanced skin care and non-surgical cosmetic enhancement. Options include surgical face, body, and breast enhancement procedures, as well as BOTOX® Cosmetic and other injectable treatments. The practice also offers treatment for patients affected by chronic nerve/joint pain and migraine headaches. The doctors are available for interview upon request.
For more information about Florida Plastic Surgery Group, please visit plasticsurgeryjacksonville.com and facebook.com/pages/Florida-Plastic-Surgery-Group/80225914572.
Contact:
Florida Plastic Surgery Group
Southside/Beaches:
14546 Old St. Augustine Rd. #407
Jacksonville, FL 32258
Riverside:
2 Shircliff Way
Suite 500
Depaul Building
Jacksonville, FL 32204
Clay County:
1658 St. Vincent's Way, Suite 210
Middleburg, FL 32068
(904) 262-3372
Rosemont Media
(858) 200-0044
www.rosemontmedia.com