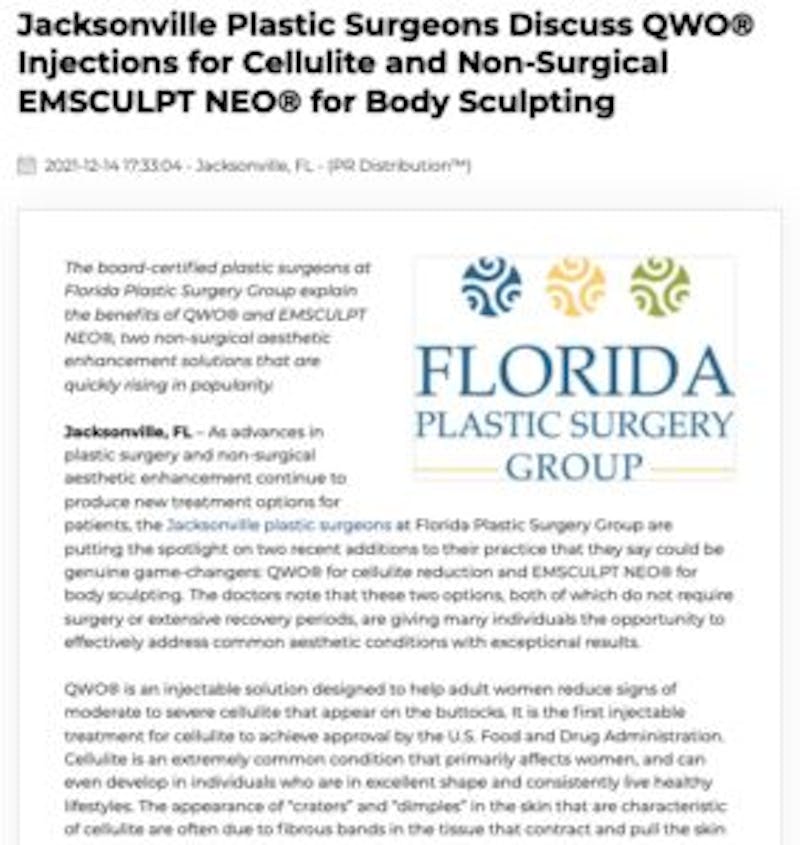 The plastic surgeons at Florida Plastic Surgery Group explain the benefits of EMSCULPT NEO®, a non-surgical aesthetic enhancement solution that is quickly rising in popularity.
Jacksonville, FL – As advances in plastic surgery and non-surgical aesthetic enhancement continue to produce new treatment options for patients, the Jacksonville plastic surgeons at Florida Plastic Surgery Group are putting the spotlight a recent addition to their practice that they say could be a genuine game-changer: EMSCULPT NEO® for body sculpting. The doctors note that EMSCULPT NEO® does not require surgery or extensive recovery periods, are giving many individuals the opportunity to effectively address common aesthetic conditions with exceptional results.
Another new, non-surgical treatment at the practice – EMSCULPT NEO® – is designed to serve a different purpose. This FDA-cleared option is a state-of-the-art body sculpting treatment that can help many individuals reduce excess fat and refine muscle tone in targeted areas such as the arms, abdomen, buttocks, legs, or calves. EMSCULPT NEO® utilizes a combination of radiofrequency waves and high-intensity electromagnetic energy to start a process that breaks down fat cells and filters them out of the body naturally, then strengthens muscles in the area by helping them contract to a degree that cannot be achieved in a standard workout. Ultimately, the doctors explain, EMSCULPT NEO® can reduce excess fat in specific areas of the body while simultaneously building muscle mass, helping patients attain a more sculpted look in areas that have been unresponsive to traditional diet and exercise routines. They note that one of the most prominent benefits of the EMSCULPT NEO® procedure is that it does not require surgery, anesthesia, or long periods of downtime. In fact, most of their EMSCULPT NEO® patients are able to immediately resume their daily routines after the treatment has been performed.
While the plastic surgeons at Florida Plastic Surgery Group say EMSCULPT NEO® procedures can be an excellent option for many patients, they note that this treatment may not be ideal for everyone. They say the first step for individuals who are considering treatments to address these types of aesthetic conditions is to schedule an initial consultation and evaluation to determine their candidacy. If this treatment is ideal for a patient's needs and goals, the doctors say a customized treatment plan can be developed to improve the concerns with the best possible results. "With options like EMSCULPT NEO®, patients who are looking for effective, more convenient ways to address certain types of aesthetic conditions now have a very unique and advanced new option to consider."
About Florida Plastic Surgery Group
Florida Plastic Surgery Group is a practice offering an extensive array of plastic and reconstructive surgery procedures, in addition to a comprehensive range of non-surgical cosmetic enhancement options. Dr. Ankit Desai, Dr. Joseph Parks, Dr. Michael Fallucco, and Dr. Michael DeFazio, are certified by the American Board of Plastic Surgery. Many of the doctors at the practice have also been named "Top Doctors" in Jacksonville Magazine. In addition to treatments such as EMSCULPT NEO®, the Jacksonville plastic surgery practice is known for its expertise in performing breast augmentation, breast reconstruction, facelift, tummy tuck surgery, and other advanced procedures. The practice also offers options for post-mastectomy lymphedema, migraine headache pain, and many other conditions. The doctors are available for interview upon request.
For more information about Florida Plastic Surgery Group, please visit plasticsurgeryjacksonville.com and facebook.com/pages/Florida-Plastic-Surgery-Group/80225914572.
Contact:
Florida Plastic Surgery Group
Southside:
14546 Old St. Augustine Rd.
Medical Bldg. 1 Suite 407
Jacksonville, FL 32258
Beaches:
Baptist Beaches Medical Center
1370 13th Ave S.
Medical Office Building A, Suite 214
Jacksonville Beach, FL 32250
Riverside:
2 Shircliff Way
Suite 635
Depaul Building
Jacksonville, FL 32204
Clay County:
1658 St. Vincent's Way
Suite 210
Middleburg, FL 32068
(904) 262-3372
Rosemont Media
(800) 491-8623
www.rosemontmedia.com