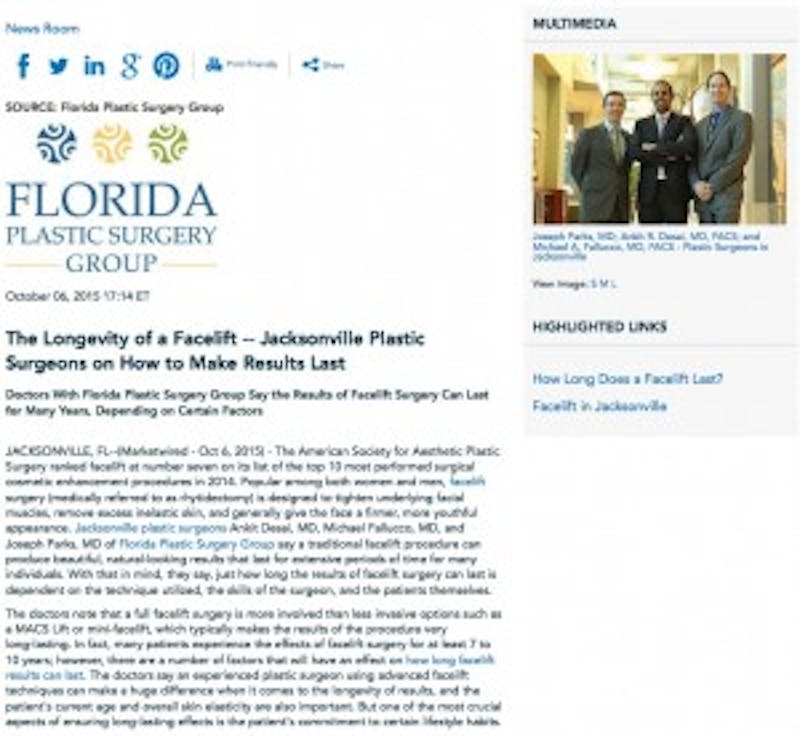 Doctors with Florida Plastic Surgery Group say the results of facelift surgery can last for many years, depending on certain factors.
Jacksonville, FL – The American Society for Aesthetic Plastic Surgery ranked facelift at number seven on its list of the top 10 most performed surgical cosmetic enhancement procedures in 2014. Popular among both women and men, facelift surgery (medically referred to as rhytidectomy) is designed to tighten underlying facial muscles, remove excess inelastic skin, and generally give the face a firmer, more youthful appearance. Jacksonville plastic surgeons Ankit Desai, MD, Michael Fallucco, MD, and Joseph Parks, MD of Florida Plastic Surgery Group say a traditional facelift procedure can produce beautiful, natural-looking results that last for extensive periods of time for many individuals. With that in mind, they say, just how long the results of facelift surgery can last is dependent on the technique utilized, the skills of the surgeon, and the patients themselves.
The doctors note that a full facelift surgery is more involved than less invasive options such as a MACS Lift or mini-facelift, which typically makes the results of the procedure very long-lasting. In fact, many patients experience the effects of facelift surgery for at least 7 to 10 years; however, there are a number of factors that will have an effect on how long facelift results can last. The doctors say an experienced plastic surgeon using advanced facelift techniques can make a huge difference when it comes to the longevity of results, and the patient's current age and overall skin elasticity are also important. But one of the most crucial aspects of ensuring long-lasting effects is the patient's commitment to certain lifestyle habits.
Drs. Desai, Fallucco, and Parks say patients who have facelift surgery can go a long way toward extending results by protecting their skin from the sun's harmful rays, avoiding smoking, and maintaining a healthy diet. They say weight fluctuations and not taking proper care of the skin can have a significant impact on the length of facelift results, so it's particularly important to embrace a healthy lifestyle and an effective skincare regimen.
The doctors note that facelift results can also be enhanced from time to time with non-surgical injectable treatments or other options that can keep the effects going for longer and longer periods. Overall, they say, as long as patients choose their facelift surgeon wisely and take good care of their health and skin after the procedure, the positive effects can keep them looking youthful and refreshed for many years to come.
Florida Plastic Surgery Group
Florida Plastic Surgery Group is a comprehensive plastic and reconstructive surgery practice in the Jacksonville, St. Augustine, and Middleburg area. In addition to facelift surgery, the practice offers a full selection of plastic surgery procedures for the face, breasts, and body, as well as non-surgical aesthetic enhancement options and treatments for conditions such as headaches and chronic pain. Dr. Ankit Desai, Dr. Michael Fallucco, and Dr. Joseph Parks have each been recognized as a Top Doctor in Jacksonville Magazine. The doctors are available for interview upon request.
For more information about Florida Plastic Surgery Group, please visit plasticsurgeryjacksonville.com
and facebook.com/pages/Florida-Plastic-Surgery-Group/80225914572.
Contact:
Florida Plastic Surgery Group
Southside/Beaches:
14540 Old St. Augustine Rd. #2391
Jacksonville, FL 32258
Riverside:
2 Shircliff Way
Suite 500
Depaul Building
Jacksonville, FL 32204
Clay County:
1658 St. Vincent's Way, Suite 210
Middleburg, FL 32068
(904) 262-3372
Rosemont Media
(858) 200-0044
www.rosemontmedia.com