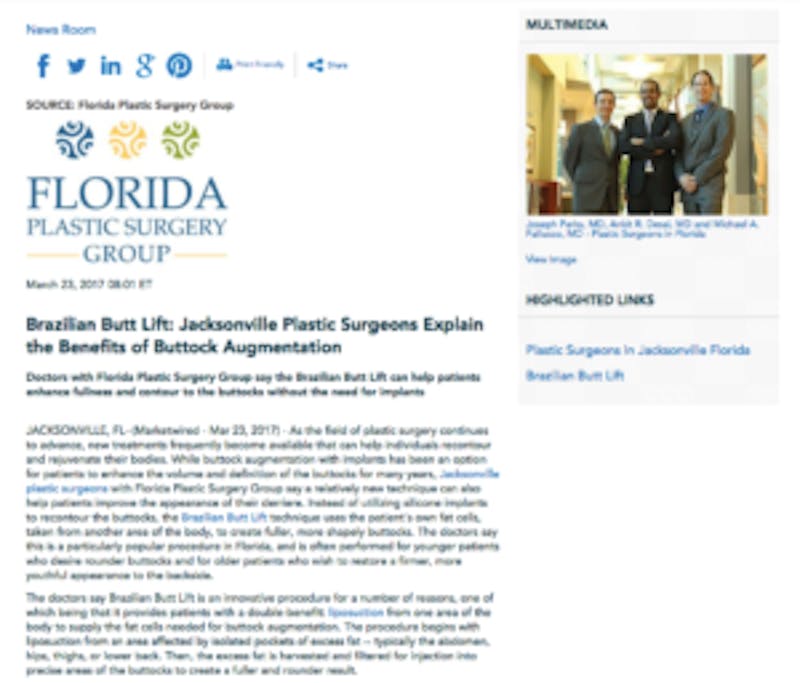 Doctors with Florida Plastic Surgery Group say the Brazilian Butt Lift can help patients enhance fullness and contour to the buttocks without the need for implants.
Jacksonville, FL – As the field of plastic surgery continues to advance, new treatments frequently become available that can help individuals recontour and rejuvenate their bodies. While buttock augmentation with implants has been an option for patients to enhance the volume and definition of the buttocks for many years, Jacksonville plastic surgeons with Florida Plastic Surgery Group say a relatively new technique can also help patients improve the appearance of their derriere. Instead of utilizing silicone implants to recontour the buttocks, the Brazilian Butt Lift technique uses the patient's own fat cells, taken from another area of the body, to create fuller, more shapely buttocks. The doctors say this is a particularly popular procedure in Florida, and is often performed for younger patients who desire rounder buttocks and for older patients who wish to restore a firmer, more youthful appearance to the backside.
The doctors say Brazilian Butt Lift is an innovative procedure for a number of reasons, one of which being that it provides patients with a double-benefit: liposuction from one area of the body to supply the fat cells needed for buttock augmentation. The procedure begins with liposuction from an area affected by isolated pockets of excess fat – typically the abdomen, hips, thighs, or lower back. Then, the excess fat is harvested and filtered for injection into precise areas of the buttocks to create a fuller and rounder result.
Brazilian Butt Lift procedures are usually performed on an outpatient basis, and the surgeons at Florida Plastic Surgery Group recommend that patients avoid sitting directly on the buttocks for at least three weeks following treatment. Since it's necessary to avoid direct pressure to the buttocks in order to maximize the survivability of the transplanted fat cells, the doctors say frequent sitting during the recovery period could ultimately affect Brazilian Butt Lift results. They say that special cushions and modified chairs can often be utilized to facilitate comfort while the area heals.
While the Jacksonville plastic surgeons say exercises that focus on the gluteal muscles can enhance the tone and shape of the buttocks to a certain degree for many individuals, some may not be able to achieve the results they desire with exercise alone. They say a Brazilian Butt Lift can offer significant results that improve and enhance the contours of the buttocks without the need for implants, and the effects can ultimately give one's entire silhouette a more shapely appearance. The doctors recommend that individuals who are considering buttock augmentation see a plastic surgeon who can talk with them about their options and help them determine whether the Brazilian Butt Lift procedure is ideal for their needs and goals.
Florida Plastic Surgery Group
Dr. Ankit Desai, Dr. Joseph Parks, and Dr. Michael Fallucco are board-certified plastic surgeons at Florida Plastic Surgery Group. All three surgeons have been recognized as Top Doctors in Jacksonville Magazine. In addition to the Brazilian Butt Lift procedure, Florida Plastic Surgery Group offers a full range of plastic and reconstructive surgery procedures, including treatments for the face, breasts, and body. The practice also offers a variety of non-surgical cosmetic enhancement and skin care options, as well as treatment for chronic nerve/joint pain and migraine headaches. The doctors are available for interview upon request.
For more information about Florida Plastic Surgery Group, please visit plasticsurgeryjacksonville.com and facebook.com/pages/Florida-Plastic-Surgery-Group/80225914572.
Contact:
Florida Plastic Surgery Group
Southside/Beaches:
14546 Old St. Augustine Rd. #407
Jacksonville, FL 32258
Riverside:
2 Shircliff Way
Suite 500
Depaul Building
Jacksonville, FL 32204
Clay County:
1658 St. Vincent's Way, Suite 210
Middleburg, FL 32068
(904) 262-3372
Rosemont Media
(858) 200-0044
www.rosemontmedia.com