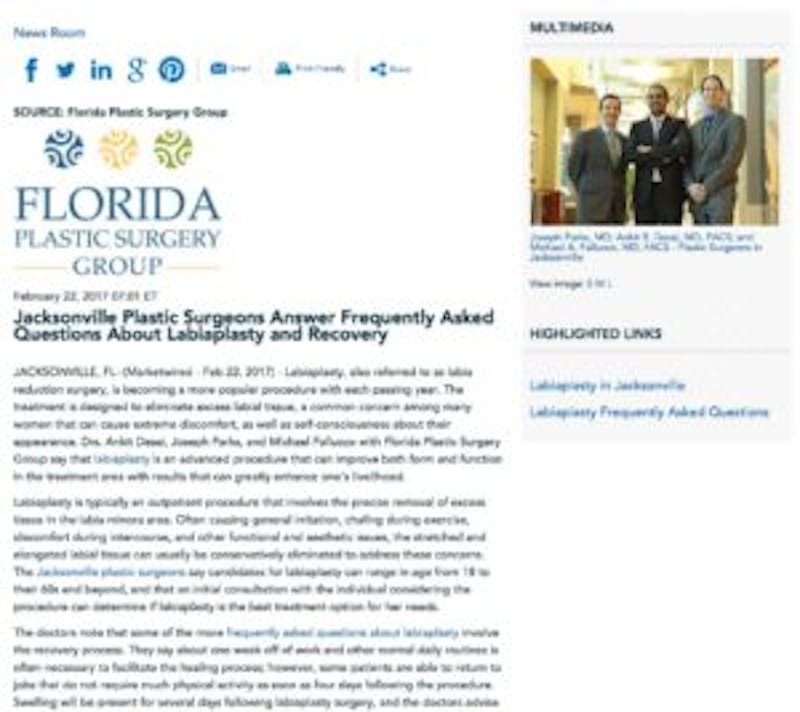 Jacksonville, FL – Labiaplasty, also referred to as labia reduction surgery, is becoming a more popular procedure with each passing year. The treatment is designed to eliminate excess labial tissue, a common concern among many women that can cause extreme discomfort, as well as self-consciousness about their appearance. Drs. Ankit Desai, Joseph Parks, and Michael Fallucco with Florida Plastic Surgery Group say that labiaplasty is an advanced procedure that can improve both form and function in the treatment area with results that can greatly enhance one's livelihood.
Labiaplasty is typically an outpatient procedure that involves the precise removal of excess tissue in the labia minora area. Often causing general irritation, chafing during exercise, discomfort during intercourse, and other functional and aesthetic issues, the stretched and elongated labial tissue can usually be conservatively eliminated to address these concerns. The Jacksonville plastic surgeons say candidates for labiaplasty can range in age from 18 to their 60s and beyond, and that an initial consultation with the individual considering the procedure can determine if labiaplasty is the best treatment option for her needs.
The doctors note that some of the more frequently asked questions about labiaplasty involve the recovery process. They say about one week off of work and other normal daily routines is often necessary to facilitate the healing process; however, some patients are able to return to jobs that do not require much physical activity as soon as four days following the procedure. Swelling will be present for several days following labiaplasty surgery, and the doctors advise patients to abstain from sexual intercourse for a minimum of four weeks to ensure the treatment area has properly healed. The doctors also note that this surgery typically utilizes dissolvable sutures that will not need to be removed later.
Drs. Desai, Parks, and Fallucco say that labiaplasty offers a range of benefits for women affected by excess labial tissue, helping them feel less self-conscious while wearing certain types of clothing and more comfortable during intimacy with their sexual partners. Plus, they say, this procedure has helped many women feel better while exercising and even simply walking. The doctors recommend that women who are considering labiaplasty be sure to see a board-certified plastic surgeon who will listen attentively to their concerns and create a customized treatment plan designed to meet their goals.
Florida Plastic Surgery Group
Florida Plastic Surgery Group is a comprehensive practice offering a range of plastic and reconstructive surgery procedures, as well as non-surgical cosmetic enhancement and skin care options. Dr. Ankit Desai, Dr. Joseph Parks, and Dr. Michael Fallucco are all board-certified plastic surgeons and each has been recognized as Top Doctors in Jacksonville Magazine. In addition to labiaplasty, the practice offers a full array of facial rejuvenation, breast surgery, body surgery, and skin care procedures, as well as treatment for migraine headaches and chronic nerve/joint pain. The doctors are available for interview upon request.
For more information about Florida Plastic Surgery Group, please visit plasticsurgeryjacksonville.com and facebook.com/pages/Florida-Plastic-Surgery-Group/80225914572.
Contact:
Florida Plastic Surgery Group
Southside/Beaches:
14546 Old St. Augustine Rd. #407
Jacksonville, FL 32258
Riverside:
2 Shircliff Way
Suite 500
Depaul Building
Jacksonville, FL 32204
Clay County:
1658 St. Vincent's Way, Suite 210
Middleburg, FL 32068
(904) 262-3372
Rosemont Media
(858) 200-0044
www.rosemontmedia.com