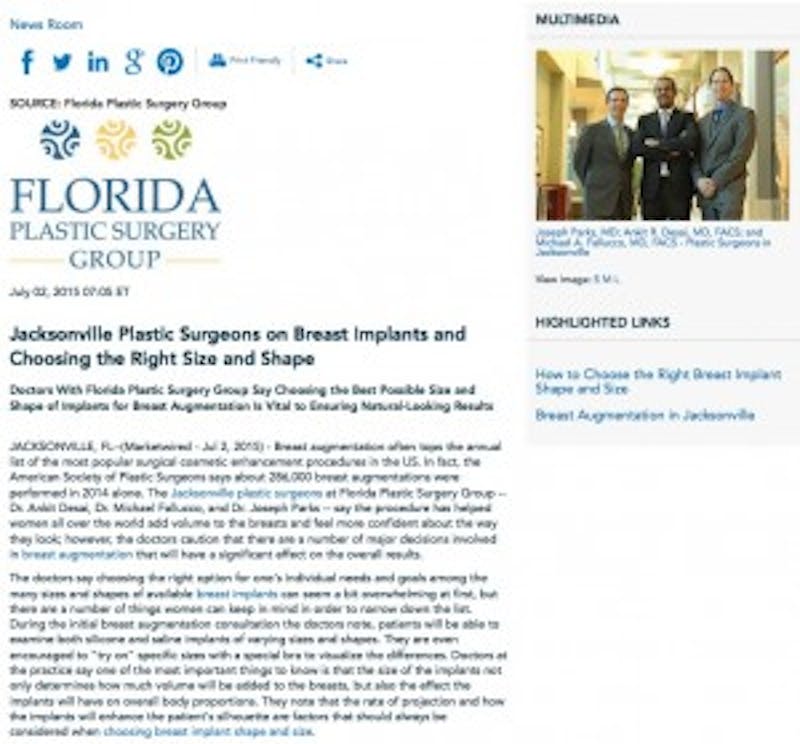 Doctors with Florida Plastic Surgery Group say choosing the best possible size and shape of implants for breast augmentation is vital to ensuring natural-looking results.
Jacksonville, FL – Breast augmentation often tops the annual list of the most popular surgical cosmetic enhancement procedures in the US. In fact, the American Society of Plastic Surgeons says about 286,000 breast augmentations were performed in 2014 alone. The Jacksonville plastic surgeons at Florida Plastic Surgery Group – Dr. Ankit Desai, Dr. Michael Fallucco, and Dr. Joseph Parks – say the procedure has helped women all over the world add volume to the breasts and feel more confident about the way they look; however, the doctors caution that there are a number of major decisions involved in breast augmentation that will have a significant effect on the overall results.
The doctors say choosing the right option for one's individual needs and goals among the many sizes and shapes of available breast implants can seem a bit overwhelming at first, but there are a number of things women can keep in mind in order to narrow down the list. During the initial breast augmentation consultation the doctors note, patients will be able to examine both silicone and saline implants of varying sizes and shapes. They are even encouraged to "try on" specific sizes with a special bra to visualize the differences. Doctors at the practice say one of the most important things to know is that the size of the implants not only determines how much volume will be added to the breasts, but also the effect the implants will have on overall body proportions. They note that the rate of projection and how the implants will enhance the patient's silhouette are factors that should always be considered when choosing breast implant shape and size.
Two of the most popular breast implant shapes are "round" and "teardrop-shaped" implants. The doctors reveal that round implants can be helpful for women who want to enhance volume in the upper regions of the breasts and maintain a more prominent rate of projection. A teardrop, or "shaped" implant is created with a downward slope similar to a natural breast, which the doctors say can be beneficial for patients who are striving for a significant increase in breast volume with natural-looking results.
All in all, the surgeons at Florida Plastic Surgery Group say women who are interested in having breast augmentation should take these three things into account when deciding on the best implant options for them:
Lifestyle – Larger breast implants can have a negative effect on women who engage in physical activities such as yoga, sports, and others
Subtle vs. Natural – Some shapes offer a more natural look to enhance volume without giving away the fact that a breast augmentation has been performed. Other shapes offer more spherical results, which can significantly add volume but may not look as natural as other options
Risks – If the implants are too large, they may increase the risk of potential complications or unsatisfactory aesthetic results
The doctors say the best way for women to find the right breast implant options for their needs and goals is to consult with an experienced plastic surgeon who can answer their questions about implant types, sizes, and shapes. They note that individuals who go over all the possibilities of breast augmentation with their surgeon can make more informed choices and feel more confident about the potential results.
Florida Plastic Surgery Group
Dr. Ankit Desai, Dr. Michael Fallucco, and Dr. Joseph Parks at Florida Plastic Surgery Group have all been listed as Top Doctors in Jacksonville Magazine. Located in the Jacksonville, St. Augustine, and Middleburg area, Florida Plastic Surgery Group offers a number of advanced surgical and non-surgical cosmetic enhancement options, including breast surgery, facial rejuvenation, body contouring, and professional skin care. The doctors are available for interview upon request.
For more information about Florida Plastic Surgery Group, please visit plasticsurgeryjacksonville.com and facebook.com/pages/Florida-Plastic-Surgery-Group/80225914572.
Contact:
Florida Plastic Surgery Group
Southside/Beaches:
14540 Old St. Augustine Rd. #2391
Jacksonville, FL 32258
Riverside:
2 Shircliff Way
Suite 500
Depaul Building
Jacksonville, FL 32204
Clay County:
1658 St. Vincent's Way, Suite 210
Middleburg, FL 32068
(904) 262-3372
Rosemont Media
(858) 200-0044
www.rosemontmedia.com