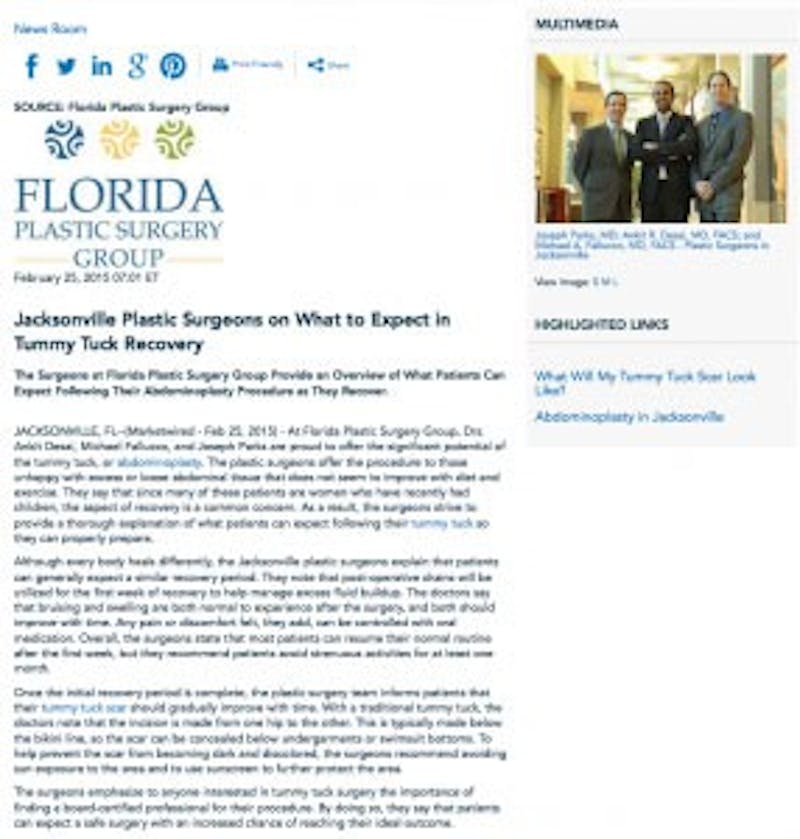 The surgeons at Florida Plastic Surgery Group provide an overview of what patients can expect following their abdominoplasty procedure as they recover.
Jacksonville, FL – At Florida Plastic Surgery Group, Drs. Ankit Desai, Michael Fallucco, and Joseph Parks are proud to offer the significant potential of the tummy tuck, or abdominoplasty. The plastic surgeons offer the procedure to those unhappy with excess or loose abdominal tissue that does not seem to improve with diet and exercise. They say that since many of these patients are women who have recently had children, the aspect of recovery is a common concern. As a result, the surgeons strive to provide a thorough explanation of what patients can expect following their tummy tuck so they can properly prepare.
Although every body heals differently, the Jacksonville plastic surgeons explain that patients can generally expect a similar recovery period. They note that post-operative drains will be utilized for the first week of recovery to help manage excess fluid buildup. The doctors say that bruising and swelling are both normal to experience after the surgery, and both should improve with time. Any pain or discomfort felt, they add, can be controlled with oral medication. Overall, the surgeons state that most patients can resume their normal routine after the first week, but they recommend patients avoid strenuous activities for at least one month.
Once the initial recovery period is complete, the plastic surgery team informs patients that their tummy tuck scar should gradually improve with time. With a traditional tummy tuck, the doctors note that the incision is made from one hip to the other. This is typically made below the bikini line, so the scar can be concealed below undergarments or swimsuit bottoms. To help prevent the scar from becoming dark and discolored, the surgeons recommend avoiding sun exposure to the area and to use sunscreen to further protect the area.
The surgeons emphasize to anyone interested in tummy tuck surgery the importance of finding an experienced plastic surgeon for their procedure. By doing so, they say that patients can expect a safe surgery with an increased chance of reaching their ideal outcome.
Florida Plastic Surgery Group
Florida Plastic Surgery Group is composed of Dr. Ankit Desai, Dr. Michael Fallucco, and Dr. Joseph Parks. The surgeons provide a wide range of cosmetic and reconstructive procedures to the Jacksonville and Middleburg, Florida areas, including surgery of the face, body, and breast as well as non-surgical treatments. The experienced team has been recognized individually for their plastic surgery expertise through various media outlets. They are available for interview upon request.
For more information about Florida Plastic Surgery Group, please visit plasticsurgeryjacksonville.com and facebook.com/pages/Florida-Plastic-Surgery-Group/80225914572.
Contact:
Florida Plastic Surgery Group
Southside/Beaches:
14540 Old St. Augustine Rd. #2391
Jacksonville, FL 32258
Riverside:
2 Shircliff Way
Suite 500
Depaul Building
Jacksonville, FL 32204
Clay County:
1658 St. Vincent's Way, Suite 210
Middleburg, FL 32068
(904) 262-3372
Rosemont Media
(858) 200-0044
www.rosemontmedia.com