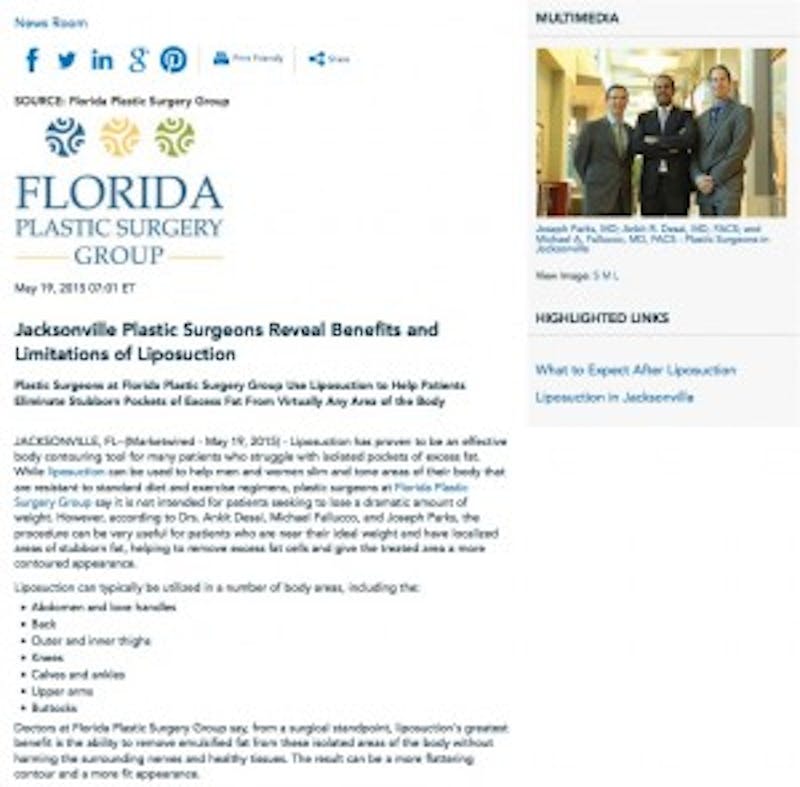 Plastic Surgeons at Florida Plastic Surgery Group use liposuction to help patients eliminate stubborn pockets of excess fat from virtually any area of the body.
Jacksonville, FL – Liposuction has proven to be an effective body contouring tool for many patients who struggle with isolated pockets of excess fat. While liposuction can be used to help men and women slim and tone areas of their body that are resistant to standard diet and exercise regimens, plastic surgeons at Florida Plastic Surgery Group say it is not intended for patients seeking to lose a dramatic amount of weight. However, according to Drs. Ankit Desai, Michael Fallucco, and Joseph Parks, the procedure can be very useful for patients who are near their ideal weight and have localized areas of stubborn fat, helping to remove excess fat cells and give the treated area a more contoured appearance.
Liposuction can typically be utilized in a number of body areas, including the:
Abdomen and love handles
Back
Outer and inner thighs
Knees
Calves and ankles
Upper arms
Buttocks
Doctors at Florida Plastic Surgery Group say, from a surgical standpoint, liposuction's greatest benefit is the ability to remove emulsified fat from these isolated areas of the body without harming the surrounding nerves and healthy tissues. The result can be a more flattering contour and a more fit appearance.
Since liposuction is a surgical procedure, the Jacksonville plastic surgeons say patients should know what to expect after liposuction and understand that there is a recovery process, although it is often relatively short for most individuals. They also say patients should be aware that the results of liposuction will likely not remain permanent if they are not diligent about keeping up positive lifestyle habits when it comes to what they eat and how often they exercise.
Ultimately, the surgeons note, with proper care, the effects of liposuction can last for a very long time. "Patients who exercise regularly and eat a balanced diet can typically enjoy a permanently slimmer figure. To maintain the results of your surgery, keeping an active and healthy lifestyle is vital."
Florida Plastic Surgery Group
Florida Plastic Surgery Group provides a wide range of cosmetic and reconstructive procedures to the Jacksonville and Middleburg, Florida areas. Dr. Ankit Desai, Dr. Michael Fallucco, and Dr. Joseph Parks offer both surgical and non-surgical rejuvenation options for the face, body, breasts, and skin. Each doctor at the practice has been recognized as a Top Doc in Jacksonville Magazine. Drs. Desai, Fallucco, and Parks are available for interview upon request.
For more information about Florida Plastic Surgery Group, please visit plasticsurgeryjacksonville.com and facebook.com/pages/Florida-Plastic-Surgery-Group/80225914572.
Contact:
Florida Plastic Surgery Group
Southside/Beaches:
14540 Old St. Augustine Rd. #2391
Jacksonville, FL 32258
Riverside:
2 Shircliff Way
Suite 500
Depaul Building
Jacksonville, FL 32204
Clay County:
1658 St. Vincent's Way, Suite 210
Middleburg, FL 32068
(904) 262-3372
Rosemont Media
(858) 200-0044
www.rosemontmedia.com