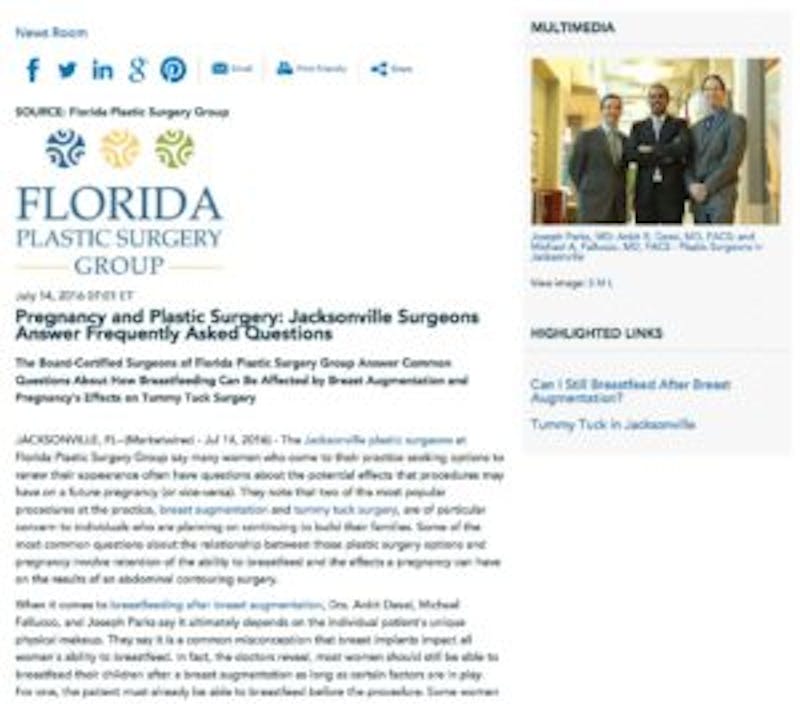 The board-certified surgeons of Florida Plastic Surgery Group answer common questions about how breastfeeding can be affected by breast augmentation and pregnancy's effects on tummy tuck surgery.
Jacksonville, FL – The Jacksonville plastic surgeons at Florida Plastic Surgery Group say many women who come to their practice seeking options to renew their appearance often have questions about the potential effects that procedures may have on a future pregnancy (or vice-versa). They note that two of the most popular procedures at the practice, breast augmentation and tummy tuck surgery, are of particular concern to individuals who are planning on continuing to build their families. Some of the most common questions about the relationship between those plastic surgery options and pregnancy involve retention of the ability to breastfeed and the effects a pregnancy can have on the results of an abdominal contouring surgery.
When it comes to breastfeeding after breast augmentation, Drs. Ankit Desai, Michael Fallucco, and Joseph Parks say it ultimately depends on the individual patient's unique physical makeup. They say it is a common misconception that breast implants impact all women's ability to breastfeed. In fact, the doctors reveal, most women should still be able to breastfeed their children after a breast augmentation as long as certain factors are in play. For one, the patient must already be able to breastfeed before the procedure. Some women are simply unable to nurse regardless of whether they have breast surgery or not, and many of these individuals are not aware of that before they have the treatment. Another important factor involves the technique utilized during the procedure itself. Some methodologies may compromise the milk ducts while others allow the surgeon to place the implants in ways that should minimize the chance of injuring structures of the breasts that produce milk. The doctors at Florida Plastic Surgery Group say the techniques that are most appropriate for an individual patient's needs and goals can be thoroughly discussed during the initial breast augmentation consultation.
Regarding tummy tuck surgery (abdominoplasty), the doctors say pregnancy is typically known to have more of an aesthetic rather than a functional effect on results. In most cases, while a healthy woman's ability to become pregnant or deliver the baby successfully should ultimately not be compromised by an abdominoplasty, the doctors explain that results of the surgery will likely be significantly affected by pregnancy. The fact is that tummy tuck surgery is designed to pull the abdominal muscles taut and tighten the skin in the region to create a flatter, firmer appearance. Since pregnancy can markedly stretch those muscles, it can have a notable impact on the outcome of a previous tummy tuck procedure. With that in mind, the doctors say they often recommend that women wait to have an abdominoplasty until they have completed their families to ensure that results won't be compromised.
Drs. Desai, Parks, and Fallucco say that all individuals who are considering any plastic surgery or cosmetic enhancement should consult with board-certified plastic surgeons and be sure to have all of their concerns addressed before making a decision. They note that patients should feel completely comfortable and confident with their plastic surgeon, and they encourage them to talk about their plans and ask any and all questions they may have.
Florida Plastic Surgery Group
The plastic surgeons at Florida Plastic Surgery Group, Dr. Ankit Desai, Dr. Joseph Parks, and Dr. Michael Fallucco, are all certified by the American Board of Plastic Surgery and each has been recognized as a Top Doctor in Jacksonville Magazine. The surgeons offer a comprehensive range of plastic and reconstructive surgery procedures at the practice, as well as non-surgical cosmetic enhancement options and advanced skin care treatments. Options at Florida Plastic Surgery Group include tummy tuck surgery, liposuction, breast enhancement, facial and neck rejuvenation, injectables such as BOTOX® Cosmetic and a range of popular dermal fillers, treatments for individuals affected by headaches and chronic nerve/joint pain, and more. The doctors are available for interview upon request.
For more information about Florida Plastic Surgery Group, please visit plasticsurgeryjacksonville.com and facebook.com/pages/Florida-Plastic-Surgery-Group/80225914572.
Contact:
Florida Plastic Surgery Group
Southside/Beaches:
14546 Old St. Augustine Rd. #407
Jacksonville, FL 32258
Riverside:
2 Shircliff Way
Suite 500
Depaul Building
Jacksonville, FL 32204
Clay County:
1658 St. Vincent's Way, Suite 210
Middleburg, FL 32068
(904) 262-3372
Rosemont Media
(858) 200-0044
www.rosemontmedia.com