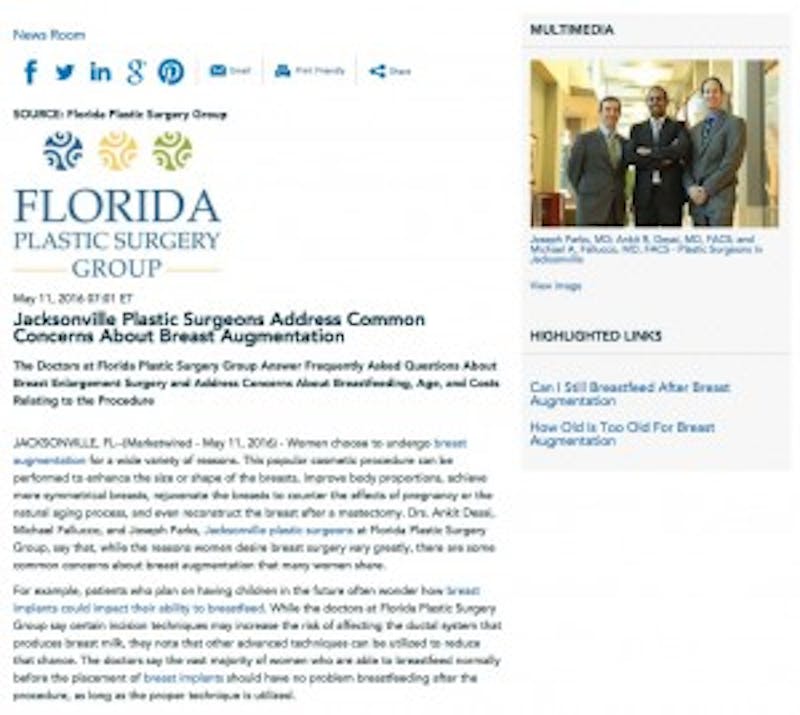 The doctors at Florida Plastic Surgery Group answer frequently asked questions about breast enlargement surgery and address concerns about breastfeeding, age, and costs relating to the procedure.
Jacksonville, FL – Women choose to undergo breast augmentation for a wide variety of reasons. This popular cosmetic procedure can be performed to enhance the size or shape of the breasts, improve body proportions, achieve more symmetrical breasts, rejuvenate the breasts to counter the effects of pregnancy or the natural aging process, and even reconstruct the breast after a mastectomy. Drs. Ankit Desai, Michael Fallucco, and Joseph Parks, Jacksonville plastic surgeons at Florida Plastic Surgery Group, say that, while the reasons women desire breast surgery vary greatly, there are some common concerns about breast augmentation that many women share.
For example, patients who plan on having children in the future often wonder how breast implants could impact their ability to breastfeed. While the doctors at Florida Plastic Surgery Group say certain incision techniques may increase the risk of affecting the ductal system that produces breast milk, they note that other advanced techniques can be utilized to reduce that chance. The doctors say the vast majority of women who are able to breastfeed normally before the placement of breast implants should have no problem breastfeeding after the procedure, as long as the proper technique is utilized.
Another common concern among breast augmentation candidates is age. Some prospective patients at Florida Plastic Surgery Group wonder if they are too old for breast surgery. The surgeons say there is essentially no upper age limit for breast augmentation. They explain that older patients who are in generally good health and free of medical concerns that would present higher risks for complications are often good candidates for the procedure – regardless of their age.
Since breast augmentation is typically considered an elective surgery by health insurance providers, some breast augmentation candidates are often concerned about the overall cost of the procedure. Dr. Desai, Dr. Fallucco, and Dr. Parks explain that the exact price of breast surgery ultimately depends upon a number of variables. The location of the incision, the position of the implant, the type of implant used, and the experience of the plastic surgeon can all influence the final cost. However, the doctors note, Florida Plastic Surgery Group offers a number of payment and financing options that may help patients achieve their cosmetic goals in a manner that can fit comfortably within their budgets.
Ultimately, the doctors say, women who are considering breast augmentation should consult with a board-certified plastic surgeon who will answer all of their questions and discuss all aspects of the procedure before they make their final decision.
Florida Plastic Surgery Group
Dr. Ankit Desai, Dr. Joseph Parks, and Dr. Michael Fallucco are board-certified plastic surgeons and have all been recognized as Top Doctors in Jacksonville Magazine. Florida Plastic Surgery Group offers a wide range of plastic and reconstructive surgery procedures, including facelift, neck lift, breast surgery, and body contouring surgery. In addition, the practice offers non-surgical cosmetic enhancement options and skin care treatments, as well as procedures to help patients affected by chronic nerve/joint pain and migraine headaches. The doctors are available for interview upon request.
For more information about Florida Plastic Surgery Group, please visit plasticsurgeryjacksonville.com and facebook.com/pages/Florida-Plastic-Surgery-Group/80225914572.
Contact:
Florida Plastic Surgery Group
Southside/Beaches:
14546 Old St. Augustine Rd. #407
Jacksonville, FL 32258
Riverside:
2 Shircliff Way
Suite 500
Depaul Building
Jacksonville, FL 32204
Clay County:
1658 St. Vincent's Way, Suite 210
Middleburg, FL 32068
(904) 262-3372
Rosemont Media
(858) 200-0044
www.rosemontmedia.com